The Shenanigans Comes to Visit The Red Couch
The True Villains Interview Sheds Light on Their Secret Skills
With the True Villains interview hitting the site today, we advise you grab the popcorn and get ready to put your asses back on because you're about to laugh them off.
The Red Couch seems to have an effect on artists. The moment they sit down, the artists uncover things about themselves that they typically keep locked up in the "these are the stories we don't tell" basket. Some would say the couch has its way of romancing the artists. Finding their sweet spots and allowing them to open up. However, Nashville Unsigned likes to think it's our magnetic energy and relaxed atmosphere that makes the artist feel comfortable enough to get weird. Probably not though! Either way, it's working!
From Starbucks slutskis, OCD germaphobes, to a farting belly button (it's real, this interview houses all the evidence) it doesn't get any more rock and roll than this. And let's just back up a second and talk farting belly buttons?! We won't dish out all the goods but Beau's got a gift with that shit… just sayin'!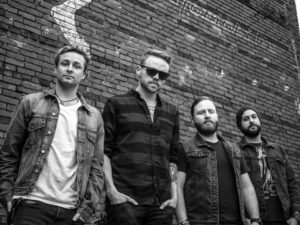 The Come-up
Converging together less than a year ago, the True Villains interview introduces how the band existed before the lead singer, Beau was in the picture. He was actually the final piece added to the band this year. Tim, Matt, and Barry, all hired guns for other bands, were itching to start their own project. Throwing up some double fuck you's to the man, they formed True Villains. The moment they added the final member, Beau, the momentum really began to accelerate. The band's collective look, feel and rocker vibe has caused a stir in the Nashville scene.
But we lie all the time, sometimes pretty consistently, without even thinking about it. So don't trust us, just go watch the interview. You may learn a thing or two.
Recruiting Fans Below
The only way to keep up with the insane amount of momentum True Villains has right now, is to jump over to their site and get on the mailing list https://www.truevillainsnashville.com/.
Also be sure to follow and subscribe on all social platforms such as FACEBOOK, INSTAGRAM, TWITTER, YOUTUBE, and SPOTIFY.
Shoutout to our Production Team:
HOPE TREE ENTERTAINMENT – Video Production- www.hopetreeentertainment.com
Shout out to our Sponsor:
THE SOUND SHELTER – Audio Production- www.thesoundshelter.com