Stoop Kids are a progressive, experimental band who seamlessly interweaves genres from the past 75 years of American music.  That's right– these guys are both retro and progressive.  How about that for duality?  Each song is fun and fresh, as they mix classic, American-born sounds from hip-hop, jazz, doo wop, and surf-rock to create an ever-changing style.  This style is creatively refreshing—you really never know exactly what you're going to get, yet it is all one cohesive sound.
The guys hail from New Orleans, and bring a piece of that culture to Nashville's indie music scene.  Griffin Dean (front man/guitarist), Thomas Eisenhood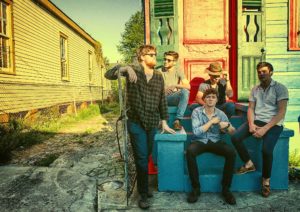 (sax/harmonies), Sam Freund (bass/harmonies), David Paternostro (guitar/keys) and Joe Tontillo (drums) are all multifaceted musicians and bring their own sense of creativity to the group.  With all these influences, and all this raw talent, Stoop Kids bring the good times with each groovy song.  No matter what genre these guys tap into, your head will be bouncing (and likely the rest of your body too).
This creativity and innovation has allowed the guys to independently release two full-length albums.  Along with these albums, the guys have had an extraordinary touring presence.  Of course, creatives of this caliber need plenty of time to act goofy.  And for Stoop Kids, that time is on stage in front of their fans!
Over the past five years, Stoop Kids have been touring from Texas all the way to the East Coast.  This touring resume includes opening for impressive acts like St. Paul and the Broken Bones, Galactic, and Stop Light Observations.  If that wasn't cool enough, the guys have rocked the house at Bayou Boogaloo and the New Orleans Jazz & Heritage Festival.  It's on stage where Stoop Kids really shine, as their live performance is a legendarily fun and hilarious.
To find out more about what these guys are doing and where they are playing, follow them on Facebook.  You can find their music streaming on Spotify and on their website.