Steel Union is a country music powerhouse of a trio.  With incredible harmonies, combined music industry knowledge, and a sweet, sweet dobro (we have mad love for the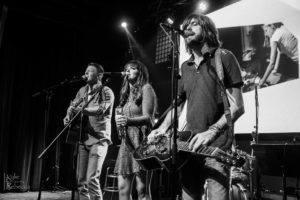 dobro here at Nashville Unsigned), this group takes independent country music to the next level.
It would seem fate had plans for these three talented musicians. Former X Factor finalist and Broadway star Rachel Potter stumbled across bandmates Donny Fallgatter and Josh Matheny in a Nashville bar one night.  Fallgatter and Matheny had been close friends and bandmates for years.  It didn't take long before the three discovered the powerful force that seems to emerge from the combination of their voices.  With a union as strong as steel, a new project was born!
None of these three are babies in the industry. Each brings a wealth of experience and a dash of their own flavor to the band.  Fallgatter moved to Nashville in 2002 to front the popular "KingBilly", a band that would prove to be as fertile as a country version of the Mickey Mouse club, spawning Matheny and country artists John Osborne (of the Brothers Osborne) and Charlie Worsham.  In the midst of extensive touring with this genre bending bluegrass-meets-southern-rock-meets-country band, Fallgatter also found the time to write for Chrysalis publishing until 2011. That's ambition!
Matheny was raised singing bluegrass classics with his family. He was picking and grinning on the dobro before he was ten years old. Nashville was calling and it wasn't long before Josh relocated and was sharing stages and studios with country legends like Vince Gill.
Finally, Potter's engaging stage presence and vocal control is a result of years of performing on Broadway.  Rachel landed some of the most desired roles on the big stage, performing as Glinda in Wicked, the Mistress in EVITA (across from Ricky Martin), and Wednesday Addams in The Addams Family (Brooke Shields). Did we mention she took a moment to dish out a final four showing on the X Factor?
There is never a dull moment when these three meet on a stage, as we got a chance to witness at Nashville Unsigned's latest Unsigned Series.  Fallgatter and Potter brought an almost sibling-esque playfulness to the stage that was not only energetic but infectious. And we dare you to attempt sitting still during a hair tossing, finger-picking, dobro solo ala Josh Matheny.  This performance just may have ignited a dobro obsession over here at Nashville Unsigned.  We hear this instrument all the time in the country music capital of the world, but this was unmarked territory!  We have a fever, and the only prescription is more dobro.
If you want to know what it means to be independent, Steel Union has nailed it!  Keep up with the band on their Facebook and website for upcoming shows and new music.  These three aren't slowing down anytime soon, so catch up and see what you're missing!