Multi-talented artist and creative innovator Kim Logan is taking her artistic career by the reigns.  Not only does she bring a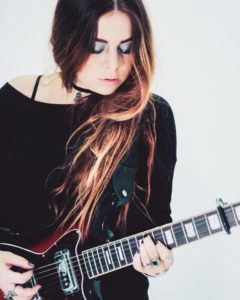 classic, rock 'n roll attitude and retro sound to her live performances, she is an accomplished writer of both music and poetry and has creatively branched out into fashion, burlesque and performance art.
After receiving an education from Berklee College of Music, Logan spent a decade in the Opera Industry.  This is the kind of real talent she brings to her music.  Though she doesn't sound like an opera singer on stage, the classical training and experience alone is something of a higher art than your usual rock singer has under their belt.
Her sound and style are heavily influenced by vintage, psychedelic rock.  This is complemented well with her life experience on the road and in honky-tonks.  Originally from Sarasota, Florida, Logan draws inspiration from the swamps and beaches where she grew up.  The southern swamp culture adds an interesting flavor to her overall sound, and is something she embraces strongly.  Her vibe is dark and gritty, with a style that is out of this time.
"Pseudoscience" is her latest artist endeavor, with the first two chapters produced by the talented Vance Powell (Jack White, Chris Stapleton), and Brett Orrison (The Black Angels).  The creative journey began its release in August of 2016, with more chapters to come this year. Logan plans on weaving inspiration into the project as it continues to grow.  Her video for "Black Magic Boy" just dropped on the website, and is a perfect example of her music's flavor.
For more information on Kim Logan's vintage grooves, check out her website or Bandcamp.  Also, be sure to follow her on Facebook, Twitter and Instagram for more information on upcoming shows, not to mention all of the radical projects she's sure to roll out in the upcoming year!