Fluid Notion is a bluesy rock outfit with mellow vibes and a groovy style from the 60's and 70's.  This three-person collaboration brings together a variety of musical backgrounds, including classic blues, vintage rock, funk, and even a splash of punk.  What comes out of this mixture is a soulful blend of wailing guitars and raspy vocals reminiscent of the Black Keys or All Them Witches.  Bandmates Dillon Courtright (guitar/vocals), Taylor Goyette (bass), and Jacob Smith (drums) have been developing this band since 2015, cultivating dance-worthy rock with intelligence.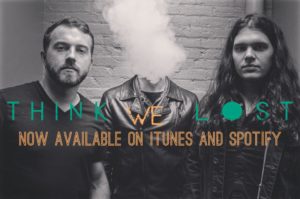 The guys formed the band right here in Nashville, Tennessee, a place that seems to be the home of America's top blues rock.  Just like the days of Jimmy Hendrix grooving in Music City's bars and honky tonks, blues and rock are still very much alive here. It's fascinating how the sounds of so many years ago can still resonate in this city's soul, as if the spirit of this style never left.  Fluid Notion really pulls from this history, blending far-out, philosophical concepts with a rock and roll attitude in the construction of their sound and songwriting.  These elements come into play as the lyrics, tempo, and mood of each song represents the rollercoaster ride that is life.
Unlike those rock 'n roll decades, however, Fluid Notion must bring their music into the digital age.  This is skill the guys have flourished in, as can be seen by their unique web design and straightforward UX/UI.  The graphics they've used to build out their home page have the same hand-drawn design flavor as their logo.  Along with this fun design, their new E.P. is front and center for fans to find easily.  This is HUGE for funneling interested fans directly to the place where they can buy Fluid Notion's music.
They've also remained relevant through other media outlets, utilizing radio and podcasts to further promote their sound.  A few examples include airing on Lightening 100 (a station who loves indie rock), MTSU's radio station WMTS, and the podcast "Notable Nashville".  This goes to show how many outlets artists have these days to promote their music.  The old standards of the music industry are dead, so there's never been a better time to be independent.
The band's debut EP "Shut Up" was released back in March, so they are right on track with the media blast this album deserves.  You can purchase this album on their website or listen to it on Spotify.  While you're at it, follow them on Facebook for more coverage on their upcoming shows and releases!
Stalk or Walk
Keep on keepin' up with Fluid Notion by jumping over to their site and getting on their mailing list at https://www.fluidnotionmusic.com/
Also, keep up with Fluid Notion's EVERY MOVE by following them on Facebook, Instagram, Twitter, YouTube, and Spotify.
#JoinTheMovement
Like what you are seeing from NASHVILLE UNSIGNED? Build a free profile on our site and gain access to our growing unsigned community. We'll probably become best friends, we're magnetic like that. Of course we are, we're a digital community where businesses, fans and basically anyone who enjoys music can hang with the best of Nashville's independent artists. NASHVILLE UNSIGNED supports the independent music community on our website and social platforms.  You'll find us on the sidewalk as well, right here in Nashville, TN sponsoring and presenting events such as our live showcase concert series "The Unsigned Series".  If you see us say hello, until then, come stand with us and #JoinTheMovement.
NOW STALK US.. WE'LL ALLOW IT
Go follow, like, comment and share all things from NASHVILLE UNSIGNED by clicking the corresponding links below:
Facebook, Instagram, Twitter, YouTube, and Spotify . And stay up-to-date with all things new music, events and of course new glossary terms by building your profile on the site and following us on all socials.