This week we jump into Nashville's Rock scene 
True Villains- Cut Me Loose Official Music Video
It's a new week kids and you know we are hitting you with the hottest independent music in the game. This week we are introducing TRUE VILLAINS- Cut Me Loose music video to kickstart the week. So hang onto your nipples because they just may get rocked right off!
Welcome to the stage True Villains, that is a collection of badasses forming in Nashville. The line-up includes Beau Lastavich on the vocals, Guitar – Tim Venerosa, Bass – Barry Conaway, and Drums – Matt Carter. Forming True Villains less than a year ago, this band immediately started making waves in the scene. And why not right? The moment Beau's voice comes in, you know they are working with a unique, special kind of talent. 
Catching my first True Villains show was like waiting for a highly anticipated rollercoaster. Unable to make recent shows, my only live experience had been seeing them through the lens of social media. And holy shit! The musicianship, energy levels, stage presence and just pure talent, oozes on stage. That's why I'm going to start this feature week off by saying "Get you asses to one if not ALL of their shows ASAP". Their rock shows are quite the rock and roll spiritual awakening.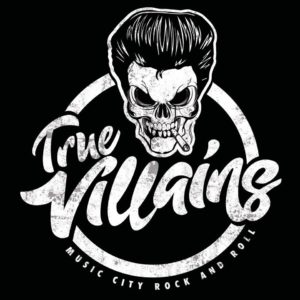 Music Vid Words
Giving us a well-rounded look into, not only the process of recording this song in the studio, True Villains also gives us a taste of "Cut Me Loose" live. And like we said before, it's something you've got to witness sooner rather than later. Because at this rate, True Villains will be playing to a sell out arenas, opening for some of the greatest rock bands very soon. So jump on that band wagon now!
Now go feast your eyes and ears on the music video by True Villains- Cut Me Loose.
Recruiting Fans Below
The only way to keep up with the insane amount of momentum True Villains has right now, is to jump over to their site and get on the mailing list https://www.truevillainsnashville.com/.
Also be sure to follow and subscribe on all social platforms such as FACEBOOK, INSTAGRAM, TWITTER, YOUTUBE, and SPOTIFY.
Rock With Us All Week
Stick around all week kiddos, because we are introducing the dudes behind the band of True Villains with exclusive content rolling out. True Villains "Cut Me Loose" video is official UP!