Nashville's best independent music & events
NASHVILLE UNSIGNED One Year Birthday Bash at The Back Corner
July 20 @ 6:00 pm

-

10:00 pm

$5.00
Event Navigation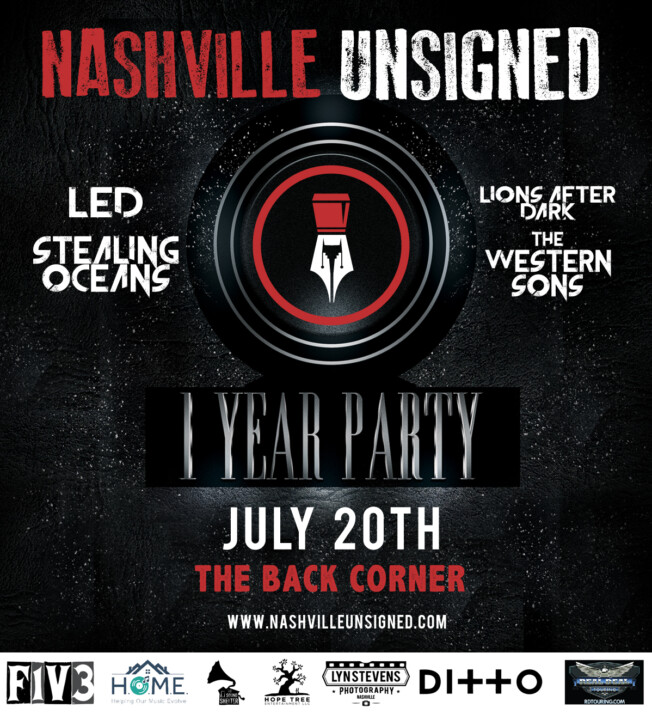 JOIN US FOR NASHVILLE UNSIGNED'S ONE YEAR BIRTHDAY PARTY
Can you believe it?? NASHVILLE UNSIGNED's One Year Birthday Bash is right around the corner. It's going down on July 20th at The Back Corner in Germantown. A night filled with networking, music, and celebrating the Independent Community. We have personally invited in the Artists from all previously featured classes. We have also invited in some of the most innovative businesses in the music industry. And of course we can't throw a NASHVILLE UNSIGNED party without some EPIC performers. Lock this date down and plan to attend the largest event we've thrown all year, our INAUGURAL BIRTHDAY BASH.
LINE-UP
Lions After Dark, The Western Sons, Light Ends Darkness, and Stealing Oceans
RSVP on our Facebook event page at : Nashville Unsigned's 1 Year Birthday Bash
**LIMITED SPACE AVAILABLE**
SPONSORS
H.O.M.E (Helping Our Music Evolve) – Find them at http://www.helpingmusic.org/
FIVE13 Entertainment and Apparel – https://www.five13brand.com/
Real Deal Touring – http://rdtouring.com/
Lyn Stevens Photgraphy – http://www.lynstevensphotography.com/
Ditto Music – https://www.dittomusic.com/
The Sound Shelter – http://www.thesoundshelter.com/
Hope Tree Entertainment – http://www.hopetreeentertainment.com/
All The Cool Kids are Following Us on Socials.. Be Cool.. Follow Us
Stay up-to-date with all things Nashville Unsigned by following us on all forms of social media. Click below and have your life changed forever 🙂
Facebook, Instagram, Twitter, YouTube, Snapchat and Spotify
#JoinTheMovement
Like what you are seeing from NASHVILLE UNSIGNED? Build a free profile on our site and gain access to our growing unsigned community. We'll probably become best friends, we're magnetic like that. Of course we are, we're a digital community where businesses, fans and basically anyone who enjoys music can hang with the best of Nashville's independent artists. NASHVILLE UNSIGNED supports the independent music community on our website and social platforms.  You'll find us on the sidewalk as well, right here in Nashville, TN sponsoring and presenting events such as our live showcase concert series "The Unsigned Series".  If you see us say hello, until then, come stand with us and #JoinTheMovement.
Looking for a calendar for Nashville events, Nashville music festivals, or Nashville live music tonight?  Well, you found the right place for it.  Welcome to Nashville Unsigned.
Whether we are promoting our city's talent from every inkling of a genre, or bringing you live coverage of Nashville's thriving music scene, our mission is to be your go-to source for Nashville events and indie artists.
Here, you can see the best in Nashville live music tonight.
Nashville Events
What you get here is all music all the time.  Though we love the visual arts and beer festivals, we are music-centric to the core.  That's why our calendar only caters to the live performances you want to see in Nashville's honky-tonks and music venues.  We are set up as a one-click solution for all the show's information.  In other words, simply click on the listing to find show times, dates, and locations.  There's even a map, if you're into treasure hunts.
Nashville Live Music Tonight!
With a regularly updated list, our aim is to make sure you don't miss a thing.  Are you making last minute plans with your friends?  Great, we got you covered! With a quick click, your plans are set.  The best part is, you don't have to spend an arm and a leg to find an amazing live performance.  Hell, it's worth it just to vibe with our scene.  There's definitely no shortage of a good time here in Music City.  There's Nashville live music tonight and every night!
Nashville Festivals
You might know Tennessee for Bonnaroo, but there's a whole lot more going on in the indie scene.  Muddy Roots, Pilgrimage, AmericanaFest, the list goes on for incredible festivals the surround this place.  This is why we keep track with the coolest indie festivals, as well as the larger events Nashville is known for.  Plus, who doesn't want to go to one of these bad boys and cover the fun?
Nashville's The Place for Live Music
What are the best events to see while in Music City?  We've taken some of our favorite shows, events, and Nashville festivals and compiled a list, just in case you need some ideas for places to go.
AmericanaFest
Beginning in 2000, AmericanaFest is a is a music festival and music industry conference all rolled into one.  From its humble beginnings, this festival has grown over the years to include many different venues.  Now, this five-day production has become the go-to event for musicians and professionals in the Americana scene.  This festival is held every September, and isn't stopping any time soon.
Bonnaroo
Bonnaroo has become somewhat of a legendary festival around here.  Like many other massive festivals, Bonnaroo is more than just a line-up of shows, it's an experience.  Though it's most well-known for its major headliners, Bonnaroo has been an excellent festival for indie artists to gain exposure.  Held every June in Manchester, TN, Bonnaroo is hands-down the king of Nashville festivals.
The Unsigned Series
Hosted by yours truly, The Unsigned Series is a Nashville event that exposes the many genres of music Nashville has to offer.  Whether it's the ever-growing synth-pop scene, heavy metal or hip hop, we've showcased the wide variety of talent our city attracts.  This is our opportunity to show off as much of the unique talent in this town as possible.  Be on the lookout for Nashville Unsigned Presents as well, as our alumni pack venues with their own shows.
Muddy Roots
One of our favorite festivals to cover so far, Muddy Roots blends rural American music with heavy doses of punk and blues rock.  Beginning in 2010, it takes place on the June Bug Boogie Ranch in Cookeville, TN every year in the middle of summer.  Muddy Roots is definitely a diamond in the rough.  The music is unique, the scene is thriving, and the vibes are strong with this epic addition to Nashville festivals.  Be prepared for a wild time!
Nashville Unsigned Presents
Our indie artists continue to inspire us with their do-it-yourself attitude.  That is why we are more than happy to promote them when they set up their own events.  Nashville Unsigned Presents is an opportunity for us to focus on our artist friends' Nashville events. From Mercy Lounge to Exit Inn to The Basement, our city is full of the coolest venues to host these shows.  Whether they are releasing a new album or promoting a charity event, we love supporting our people!
Pilgrimage
Held in Franklin, TN, this music festival is another example of the blend of major label acts and indie artists.  The rolling hills and historic atmosphere of Franklin make for a fantastic setting for the spirit of this festival.  Inspired by New Orleans jazz festivals, Pilgrimage blends jazz, alt country, rock n' roll and a mixture of popular artists.  Every year, this is one of the most popular and accessible Nashville festivals.
Downtown Nashville
When all else seems to fail, you can always walk around downtown on any given night for cool Nashville events.  Rest assured, the night will be ringing with live performers.  Whether you're looking for a classic Nashville honky-tonk, something more hip and modern, or a heart-pumping rock show, you'll find your music somewhere downtown.  They don't call us Nashvegas for nothing.  Just check out any given bar or venue for Nashville live music tonight!